Silver Cup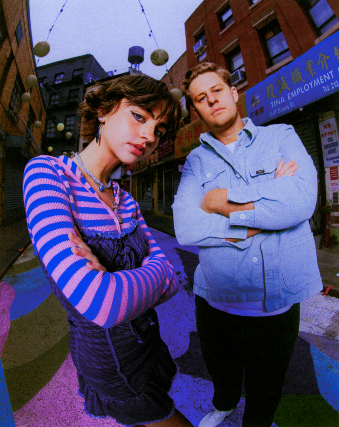 Because there wasn't a brother-sister duo playing metaphysical, vibey, totally danceable indie pop, there had to be Silver Cup. There's just no one making music like this Utah-born-and-bred, NYC-based band right now; no wonder their unforgettable bop "Are You Scared to Die?" has garnered more than a half-million listens on Spotify.

To Logan and Hadley Nelson, their growing popularity springs from the diffuse, diverse influences they encompass as artists, blending '80s New Wave and '90s grunge with elements of pure pop, punk, lo-fi, and hip-hop, as well as merging the kind of deep trust that grows out of love of family with the progressive values that have drawn them a large and devoted LBGTQ
following. How else can you explain Logan and Hadley's community of nearly a million followers on TikTok and Instagram, and the passionate fans thronging to their quirky, fun, electric-yet-intimate live shows?

"There's just too many bands who care about their coolness factor," says Logan, who writes and produces most of the songs that Hadley performs in her beautiful, haunting alto. "The reality is we're all just freaking dorks and we're all trying our best to navigate this insane life. That's what Silver Cup is all about." Managed by Quadio Records, Silver Cup is ready to amplify their endearing charm to the world with their upcoming EP, as well as constantly performing at the likes of the main stage of LoveLoud Festival in Salt Lake City.