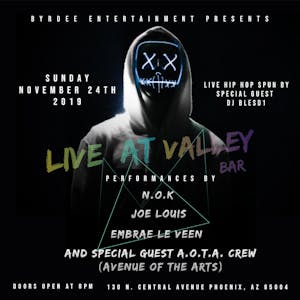 N.O.K.
Joe Louis
EMBRAE LA VEEN
A.O.T.A CREW
DJ Blesd1
Valley Bar
8PM MUSIC AND DOORS | 21+ | $7 ADVANCE | $10 DAY OF SHOW
N.O.K + JOE LOUIS + EMBRAE LA VEEN + A.O.T.A CREW + DJ BLESD1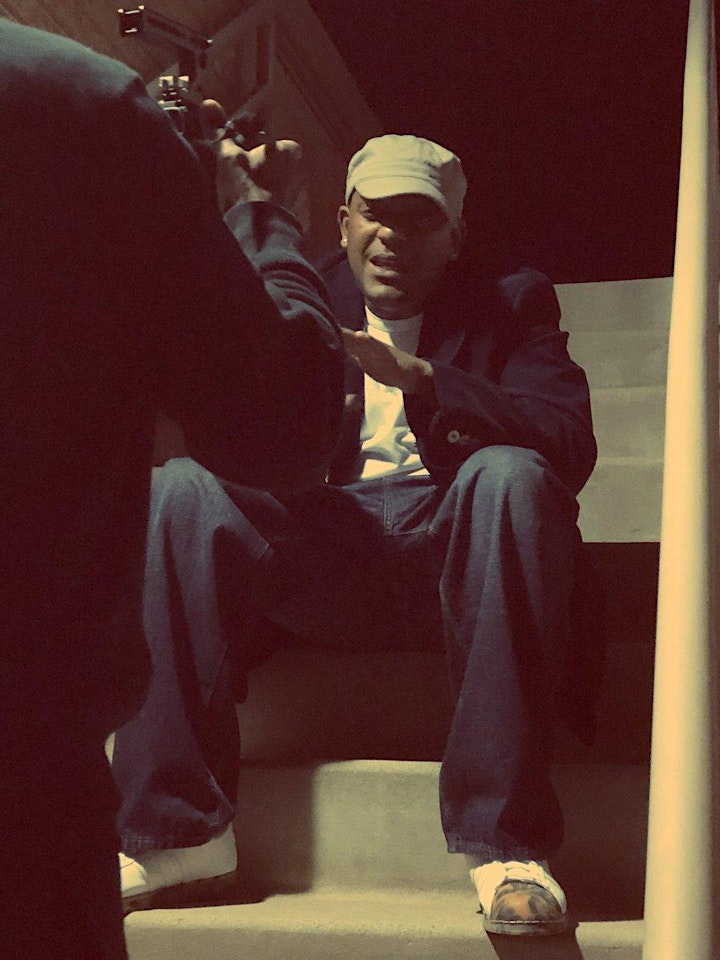 Bio - Native of New England, but long time mainstay in the AZ hip hop scene is N.O.K. long time independent artist located in the heart of AZ. N.O.K is currently dropping his 9th project "A-Town Chronicles Volume 2" which will be available on major streaming platforms. Since 1994 N.O.K. has been a performing artist in the Arizona hip hop scene and has grace the stages of every major venue in the city over the last 20 years. N.O.K. has shared stages with the likes of Wu-Tang, Nas, Redman, Joe Budden, Snoop Dogg, The Roots and countless other legendary acts. N.O.K.continues to produce records as a independent label and shows no signs of slowing down as projects continue to pile up. Aside from running his Music label and Film Company N.O.K. continues to prove why he has lasted the test of time in a flash success society.
- - - - - - - - - - - - - - - - - - - - - - - -
JOE LOUIS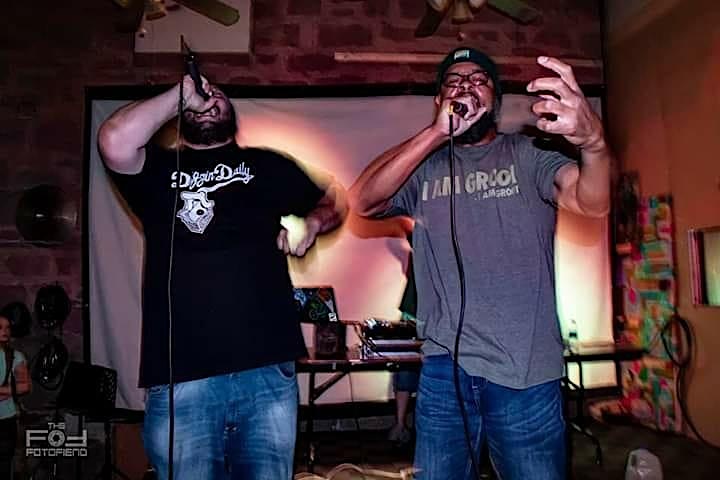 St. Louis Gibbor, born Christopher Shane Ervin... Is the "Golden Era Incarnate". Raised in Pasadena, CA at the same time the inception of Hip Hop was purchasing root in the hearts and souls of folks the world over. As with many of his contemporaries, his introduction and subsequent conversion to this new found culture was swift and complete. Some of his earliest influences include such iconic heavy hitters like KRS One, Big Daddy Kane, Ice Cube, The Geto Boys, L.O.N.S., Saafir, Public Enemy, Naughty by Nature, Ras Kass, L.L. Cool J, Ice T, King Tee, OutKast, The Goodie Mob, The Freestyle Fellowship, and Xclan. The "Golden Era"... That incredible portal in time where a myriad of external influences and socio-political conditions produced an environment ripe for the "perfect storm" of styles, originality, and skills that were birthed in this decade became his impetus. Cutting his teeth in the early 90's in Pasadena's earliest open mic, The Ebar, is where he was indoctrinated in all things lyrical. Where the only two rules of engagement were... 1. Be Dope. And 2. Don't Bite. Adopting these principles as gospel, and tempering them with his passion for people, love for God, and desire to affect positive change in himself, his immediate community, and world at large, fuels every breath and every utterance. St. Louis Gibbor.. truly a "Breath of Fresh Heir"!! Godspeed GodSeed.
- - - - - - - - - - - - - - - - - - - - - - - -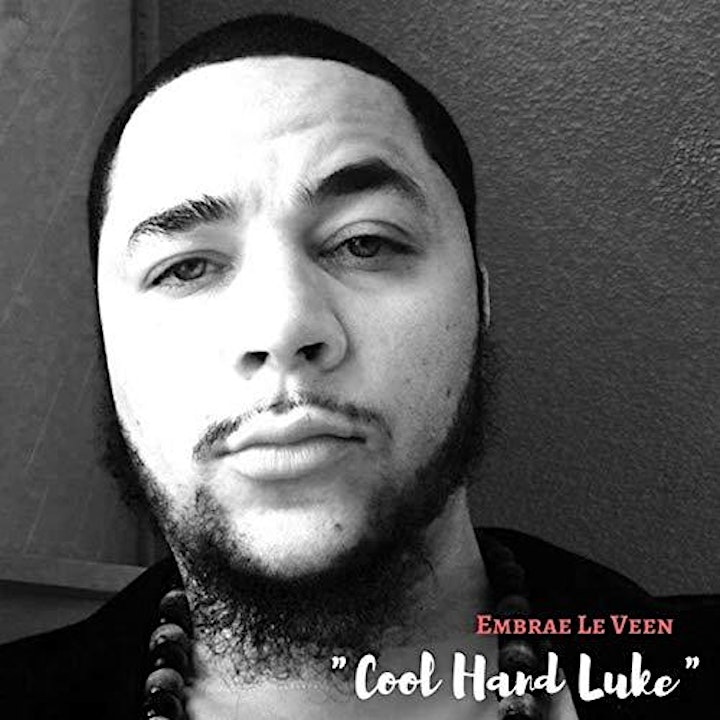 Phoenix native (by way of OKC) and legendary emcee Embrae Le Veen continues to remain a top tier emcee for over 20 years, with performances through the southwest region and numerous projects dropped such as his latest "Cool Hand Luke" continue to provide reasons why he continues to attract listeners. His latest visual "Gone Away" is currently available on Youtube as well.
- - - - - - - - - - - - - - - - - - - - - - - -
A.O.T.A CREW
Venue Information:
Valley Bar
130 N Central Ave
Phoenix, AZ, 85004