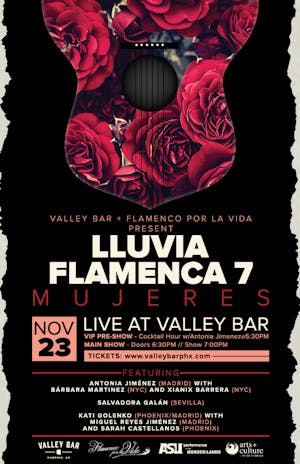 Presented by Flamenco Por La Vida
Lluvia Flamenca 7
Valley Bar
6:30 PM DOORS | 7PM SHOW | 21+ | $30 ADVANCE | $125 VIP EXPERIENCE
VIP EXPERIENCE
- General Admission Ticket
- Premiere seating
- Intimate Performance
- Pre-show cocktail hour
- VIP Experience starts at 5:00PM, arrive 15-20 min early for check in!
- - - - - - - - - - - - - - - - - - - - - - - - - - - - - - - - - - -
Flamenco Por La Vida not only shares the passions of dance but gives the community authenticity of Music, Song and Life through the historic art form from the South of Spain, Andalucia. Flamenco has played a very important roll in Angelina's life, it only made sense to share these captivating influences. Moving to Phoenix after receiving 2.5 years of extensive training at the National Conservatory of Flamenco Arts in Albuquerque, New Mexico and traveling to Sevilla, she aspired to give the experience of instruction and guidance she was so fortunate of receiving.
With the help of her friends FPLV made their debut in 2009 at Tucson's First Flamenco and Spanish Festival. Here at home the community has continued to support FPLV at a weekly show at Gallo Blanco Cafe & Bar located at The Clarendon Hotel. The growth of FPLV has opened doors for various teachers from different backgrounds and views to provide education. Classes are offered valley wide from highly skilled and talented artists. Annual auditions are held to support those interested in gaining performance experience and launching careers.
From casual "fiesta" improvisational styling to Solo and Group choreography; FPLV's mission is teach the neutral aspects of Spanish life to the hardcore expression of authentic gypsy power. "There is something in it for EVERYONE".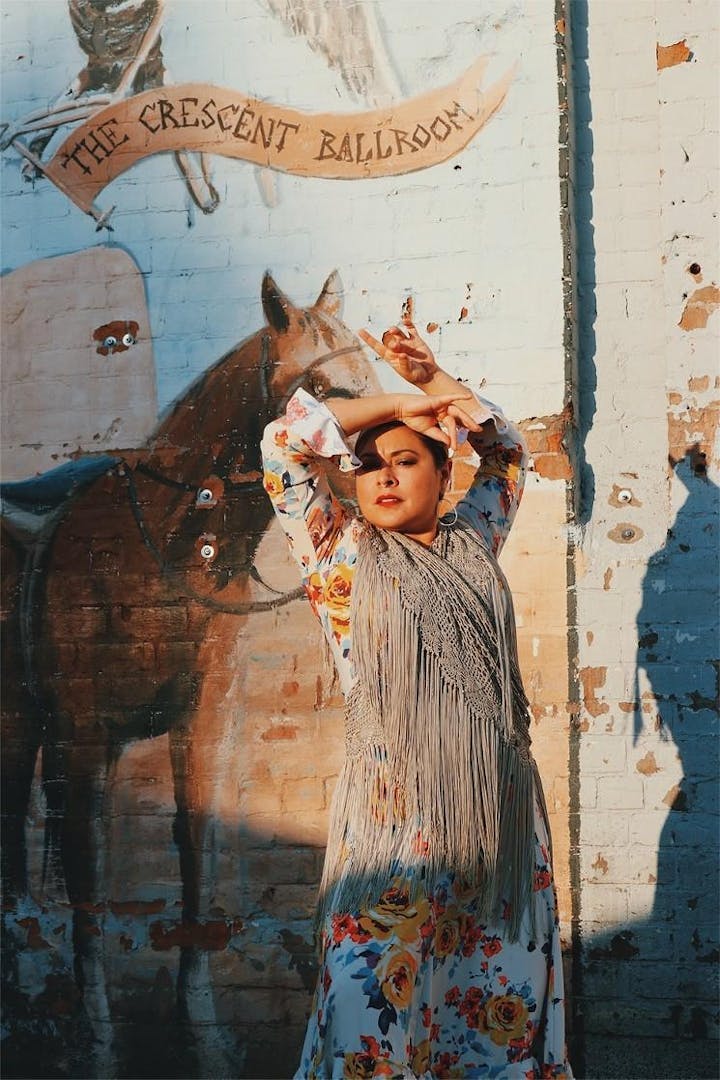 Venue Information:
Valley Bar
130 N Central Ave
Phoenix, AZ, 85004