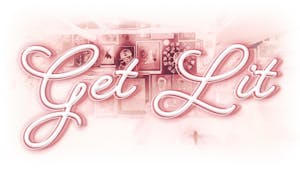 Presented by ASU's Virginia G. Piper Center for Creative Writing
Get Lit: Art as Activism with tanner menard
Valley Bar
7PM | 21+ | FREE IN THE READING ROOM
Spirited conversations. Literary culture. Every first Thursday at Valley Bar. Get Lit.
This Month: Art as Activism with tanner menard
How can the arts be used to mobilize community? What does an authentically engaged, community-based arts practice actually look like? How do we design events and programs to create more meaningful connections and intentional conversation? How do we activate communities around calls to action and other social issues?
Please note: RSVPs are purely for the purposes of monitoring attendance, gauging interest, and communicating directions, logistics, and other information about the event. You do not have to register or RSVP to attend this event. Seating is first-come, first-served. Guests must be 21 or older. This event is open to the public and free.
To learn more and RSVP, visit http://piper.asu.edu/get-lit
Have something you'd like to talk about? Know someone who does? We're always looking for hosts. Nominate yourself or someone else to host today at http://piper.asu.edu/get-lit/host!
---------------------------------------------------
Meet the Host
tanner menard is a Q2S, non-binary poet & composer whose work embodies their Creole/Acadian/NDN lineage. Poems are their method of survival, a linguistic medicine of ambiguity which is certain that love prevails. As a composer of experimental music, menard has been published & anthologized internationally on labels such as Full Spectrum Records, Rural Colours, Tokyo Droning, Install, Slow Flow Rec, H.L.M., Archaic Horizon, Kafua Records & Milieu Music. Their recent album/chapbook collaboration with Andrew Weathers was published on Full Spectrum Records. menard's poetry & essays have been published in The Squawkback, Rabbit & Rose, Cloudthroat, The University of Arizona Poetry Center Blog, Red Ink Magazine & The Mockingheart Review, American Indian Culture and Research Journal at UCLA & The Wire Magazine. Their poem 'see eye my memory my' was nominated for a Pushcart Prize by Cloudthroat. menard is a member of the Atakapa-Ishak Nation of Southwest Louisiana & Southeast Texas & resides in Tempe, AZ.
---------------------------------------------------
ABOUT Get Lit
Inspired by 17th century salons—intimate, informal gatherings where people would come together to exchange literary and philosophical ideas under the roof of an educated host—Get Lit is a night of spirited conversation and literary culture every first Thursday at Valley Bar (130 N Central Ave, Phoenix, AZ 85004) from 7:00 p.m. to 8:00 p.m.
Every month, a local writer, professor, or other member of the community speaks for three to five minutes on a topic of their choice before opening the conversation up to the room. While Get Lit is designed to be a fun, lively, and interactive space that centers participants rather than the speaker, there is no pressure or obligation for anyone to speak, and guests are welcome to sit quietly and observe the conversation if that's what they feel more comfortable doing. Individuals do not need to have any background or familiarity with the topic. Everyone is welcome and encouraged to attend.
Venue Information:
Valley Bar
130 N Central Ave
Phoenix, AZ, 85004