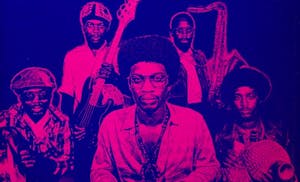 'ROUND MIDNIGHT Presents:
A TRIBUTE TO HERBIE HANCOCK & THE HEADHUNTERS
Valley Bar
7PM DOORS // 7:30PM SHOW // 21+ // $10 TICKET
Valley Bar's Jazz Series continues... 'Round Midnight celebrates the extremely funky offerings of Herbie Hancock and The Headhunters!
Head Hunters is the twelfth studio album by the legendary pianist and composer Herbie Hancock, released October 13, 1973 in San Francisco, CA. Head Hunters is a key release in Hancock's career and a defining moment in the genre of jazz.
This not-to-be-missed evening will be performed by:
ERIK TEICHMANN QUINTET
Andy Galore - Bass
Zachary Gillespie - Keyboards
Nick Menasco - Saxophones/Bass Clarinet
James Rudolph - Guitar
Erik Teichmann - Drums
Don't miss a beat, grab your seat!
Venue Information:
Valley Bar
130 N Central Ave
Phoenix, AZ, 85004