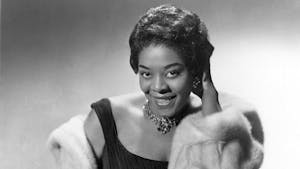 'Round Midnight Jazz Series Presents:
A TRIBUTE TO DINAH WASHINGTON Performed by DONNA SINGER
Valley Bar
7PM DOORS / 7:30PM SHOW / 21+ // $10 TICKETS
Valley Bar's Jazz Series continues... 'Round Midnight celebrates the music of the American singer and pianist, Dinah Washington! Dinah has been cited as "one of the most popular female recording artist of the '50s". Primarily a jazz vocalist, she performed and recorded in a wide variety of styles including blues, R&B, and traditional pop music, and gave herself the title of "Queen of the Blues".
NYC-based Jazz and Gospel vocalist and recording artist DONNA SINGER will lead this heart-felt tribute, backed by Phoenix's own NAZIM RASHID & NEW RENAISSANCE:
Nazim Rashid - Sax, Max Beckman - Bass, Charles Smith - Piano, Ryan Anthony - Drums
Don't miss a beat, grab your seat!
Venue Information:
Valley Bar
130 N Central Ave
Phoenix, AZ, 85004